Newsflash: Episode 3 has recently been approved for human consumption!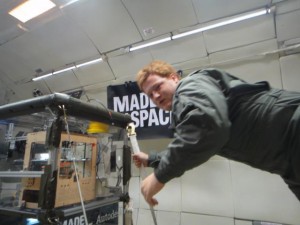 In this episode of Technically Speaking, we talk with Mike Snyder (@SpaceSnyder), Engineering and Design Lead from Made In Space about how awesome 3D printers are, and their future in our lives and in space. Mike is working to develop 3D printers for the International Space Station, where they will be used to print everything from serving utensils to repair parts on long-duration missions.
Needless to say, this is a topic that Joe and I are very passionate about, so we could talk about it forever. If you happen to have an experience with 3D Printers, let us know about it in the comments, or via Email, Facebook, or Twitter!
Next, we talk about some rumors we heard about the new Xbox (now revealed to be the "Xbox One")… The next Xbox maaay come with (and has since been confirmed to NOT exist… shoot) a la carte TV channel subscriptions! We talk about the ramifications of potentially changing the current TV content model from the Cable Company "package" model to a "single channel" model. How would consumers react to this availability? How would it affect prices? Listen to find out!
Then, in this week's BRAINSTORM, we talk about colonizing The Moon! And luckily Mike is a pro when it comes to Moon Colonization theories! We talk everything from Moon economics, politics, social structures, Moon Racing, and yep… Moon-Fu. Hand-to-hand combat in zero gravity. Totally. Awesome.
Listen! Share with your friends! Let us know what you think, and email us some future Brainstorm ideas!
NOTE: We apologize for the sound quality issues in this episode. We have figured it out, and will be making corrections in the future. Keep listening! We'll get better! We promise!
Music: "That's Amore" – Dean Martin
Podcast: Play in new window | Download