And so it begins!
In this episode of Technically Speaking, we talk with Dr. Benjamin Tippet – host of the Titanium Physicist Podcast – about some very interesting cars, and how they're hopefully helping us avoid the Apocalypse. But in case they can't, we talk about that too.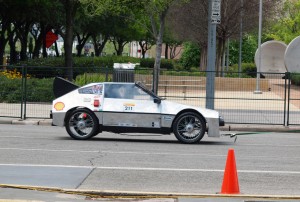 First we talk about some student-built cars that are achieving some incredible fuel economy in Shell's Eco Marathon. And by incredible, we're talking OVER 3000 MILES PER GALLON! How is that possible? Why can't my car get that kind of gas mileage? When are we going to see consumer-level improvements from this tech? You'll have to listen to find out…
Next, we discuss the engineering challenges of building a self-driving car, Google-style! What is it about snow that drives Google's car mad? What makes a human a better navigator in snow, but a worse driver? And just what the heck is "fuzzy logic?"
Finally, we get to THE BRAINSTORM™, and this challenge is specially crafted for Ben's imagination. In this episode, we brainstorm our way around the End of the World, and ask these questions:
How do you get food and water after the Apocalypse?
How do you protect your friends and family once society has collapsed?
How do you begin to rebuild?
In the end, we develop a fool-proof plan for surviving and thriving in the End of the World, and realize that Engineers will become a very valuable resource! (Along with this poster, made by friend of Brachiolope Media, Ryan North!)
Listen, let us know what you think, and email us some future Brainstorm ideas!
Music: "It's the End of the World as We Know it" – R.E.M
Podcast: Play in new window | Download