Get ready to burn some rubber with the latest episode of Technically Speaking!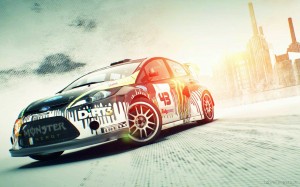 In this episode, we have the distinct pleasure of speaking with Paul Coleman, Chief Game Designer of the DiRT game series with Codemasters Games UK! Paul *gets technical* with us as we ask him how his team managed to develop such a realistic driving feel in DiRT 3, without being too difficult for the average gamer to learn to control. And maybe, just maybe, he'll tell us about the awesome benefits of working at Codemasters UK…
And since Paul is so awesome, he stuck around to Brainstorm with us about why it is that "nice" small cars have never caught on in the United States! I mean, we drive SO many more miles per person, you'd think that we'd want better fuel economy, RIGHT? How do we make fuel efficiency SEXY in the United States? What do you think? Email us your thoughts!
Listen! Comment! Share with your friends and email us some future brainstorming ideas!
Music:
"Blind Faith" – Chase & Status
As featured in DiRT3
"Fuse" – Hudson Mohawke
As featured in DiRT3
…And here's the video Paul mentions when discussing comparing real life to the game. Paul is the co-driver, you'll hear him calling out pace notes.
Podcast: Play in new window | Download